Information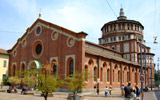 Santa Maria delle Grazie, 2
MILANO (MI) - 20100
BOX OFFICE
Times:
Fron Tuesday to Sunday from 8.15 to 19.00 (last admittance at 18.45)
Closed every Monday and: 1st Januray, 1st May, 25th December.
Ticket collection:
Please collect the tickets from 20 minutes before your visit by showing up a copy of your purchase receipt.
How to get:
Tram 18: stop Corso Magenta - Santa Maria delle Grazie
Tube MM1: stop Conciliazione o Cadorna Metro MM2: stop Cadorna
From 10 December 2013 to 28 February 2014
8th CULTURE WEEK: 9-17 APRIL 2011
During this week the painting can be seen for free. However the reservation is compulsory and possible only through the call center.
OPENING SALES
March 9th, 2011
opening sales for JUNE 2011
April 12th 2011
opening sales for JULY/AUGUST 2011
June 7th 2011
opening sales for SEPTEMBER 2011
The Last Supper
(in Italian L'Ultima Cena or Cenacolo) is 15th century mural painting in Milan created by
Leonardo da Vinci
for his patron Duke
Ludovico Sforza
. It represents the scene of the last supper from the final days of Jesus narrated in the Gospel of John 13:21, when Jesus announces that one of his Twelve Apostles would betray him. The Last Supper measures 460 x 880 centimeters (15 feet x 29 ft) and covers the back wall of the
dining hall at Santa Maria delle Grazie in Milan
. Leonardo started to paint The Last Supper in 1495 and completed it in 1498, as witnesse by Luca Pacioli who, on February 4th 1498 writes of it as a finished work.
RESERVATION FOR LAST SUPPER IS COMPULSORY
CALL CENTER SERVICE:

Call now to book or buy:
+39 02 92800360
Visits last 15 minutes; no more than 25 people each turn.

For bookings or information about schools or guided tours, please call the call center
For these times a service of
guided tour
is offered:
9,30
–
15,30
english guided tour
10,00
–
16,00
italian guided tour
Guided tour price for person is
euro 3,50
plus the ticket price. For booking guided tour, please call the
call center
.
TICKET PRICES:
Full: 6,50 € (+ advance booking 1,50€)
Reductions: 3,25 € (+ advance booking 1,50€)
* European Union and EES
(Iceland, Liechtenstein, Norway, Switzerland) citizens between 18 and 25 yeayrs of age;
* European Union and EES teachers
with open-ended contract
Free: 0,00 € (+ 1,50 € advance booking)
* European Union and EES citizens
(Iceland, Liechtenstein, Norway, Switzerland) under 18 or over 65 years of age
* I.C.O.M. members
(International Council Of Museums)
* Ministry
for Arts and Cultures employees
* Secondary school students
with Student Card
* European Union teachers and students
teaching or attending Architectural Studies, Preservation of Artistic and Cultural Heritage, Arts Faculties and Classical Studies
* European Union
teachers and students of Arts Academies
* Pupils
from Istituto Centrale per il Restauro, Opificio delle Pietre Dure and Scuola per il Restauro del Mosaico;
* Journalists
(with a valid document stating the professional job activity
* European Union disabled
people accompanied by a family member or escort
* Volunteer
emplyed in cultural promotion and information activities as rugalted by the Ministry art.12 comma 8 of the Code
* Amici di Brera
Association Members
Free: 0,00€ (without advance booking)
Bookable only through the CALL CENTER
* Student Groups
from European Union private and public schools, accompanied by their teachers with contemporary booking of related services like guides or audio-guides. If not buying services, advance sale will amount to 5€ independently from the number of people.
* European Union Tourist Guides
with professional licence are admitted for free, however they must book the ticket by the call center because of capacity reasons.
* European Union Tourist Interpreters
when requested to support the Tourist Guide
Buy Tickets
ON LINE TICKETS
Pick the date you wish to attend the museum from the calendar, then pick the time you wish to enter on the chart that will appear below
CALENDAR KEY


Not scheduled
Scheduled, with
availability
Scheduled, with no
availability
Selected date
Programme
Description:

Skira Editore
There could be some changings in the programme, please refer to the official information from the event Promoter